Marie-Josée Fortin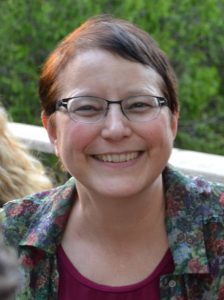 [MJFortin_CV_2019]
Professor, FRSC
Canada Research Chair in Spatial Ecology
An ecologist by training, Marie-Josée has four main research areas: spatial ecology, disturbance ecology, conservation, and spatial statistics. Her research program studies the effects of global change (landuse and climate) on species spatial dynamics at the landscape and geographical range levels both in multiuse forested ecosystems and aquatic networks to maintain biodiversity and species conservation.
Graduate Students (at the University of Toronto)
Ariel Greiner
PhD Student
Coral reefs dynamics modeling
[Co-advised with Martin Krkosek]
Christopher Brimacombe
PhD Student
Spatio-temporal dynamics of species and disease
Louis Donelle
PhD Candidate
Community ecology, Modelling, Conservation

Katherine Ziebarth
MSc Candidate [Co-advised with Njal Rollison]

Carina Firkowski [website]
PhD Candidate [Co-advised with Marc Cadotte]

Carina is interested in bringing concepts from metacommunity ecology and food web theory together to better understand the dynamical response of ecological networks to the impact of spatial, environmental and biotic disturbances.

Korryn Bodner
PhD Candidate [Co-advised with Peter Molnar]

Korryn's PhD is based in the fields of disease ecology and computational modeling. Her research focuses on predicting the effects of climate change on the severity and spread of the trematode parasite, Ribeiroia Ondatrae. Her work utilizes host-parasite models to study how the cumulative effects of temperature on parasite and host demographic traits ultimately influences R0. She is also interested in exploring how machine learning can be used, in isolation and in combination with mechanistic models, to predict R. ondatrae's spatial spread under various climate scenarios.
Graduate Students (at Other Universities)
Marie-Hélène Brice
PhD Candidate [Co-advised with Pierre Legendre at UdeM]

Marie-Hélène's research focuses on predicting species distribution and community dynamics under climate change, with the aim of improving conservation planning. Her PhD thesis will address several of the key shortcomings of current modelling approaches by developing predictive models that account for species interactions and dispersal limitation.

Meredith Purcell
PhD Candidate
Phylogenetics; Landscape genetics
[Co-advised with Paul Wilson at Trent University]
Samantha Andrews
PhD Candidate
Marine Protected Areas
[Co-advised with Shawn Leroux at MUN]
Postdoctoral Fellows
Eliza Deutsch
Canadian Lake Health

Amanda Schwantes
ResNet: A network for monitoring, modeling, and managing Canada's ecosystem services for sustainability and resilience

Tiziana A. Gelmi Candusso
Small mammals movement in urban ecosystems

Stuart Livingstone
Connectivity of protected areas in Canada

Ryan Franckowiak
Landscape genetics of seabirds
[Advisor: Vicki Friesen at Queen's University; co-Advisor: Marie-Josee Fortin]
Andrew Chin [website]
MITACS – TRCA – UofT
Kate Kirby [website]
Agroforestry; Ecosystem services; Socio-economy